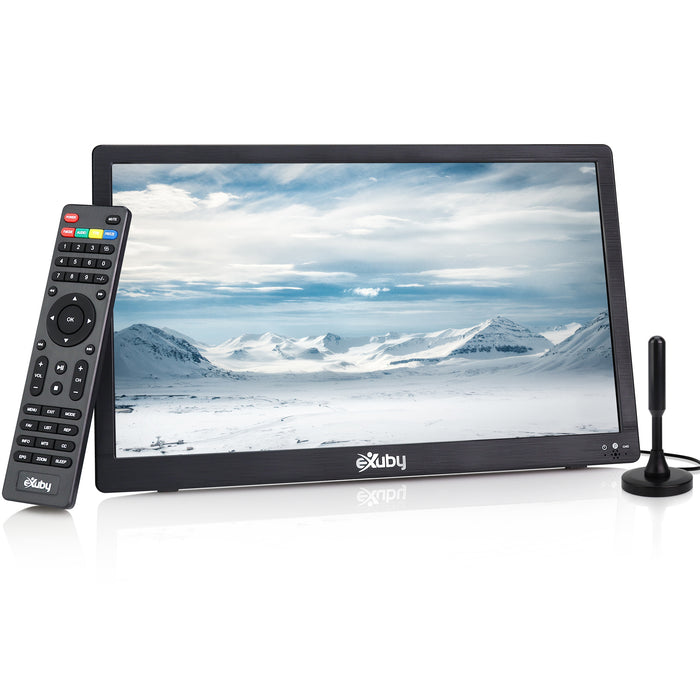 eXuby 14" Small Portable TV for RV, Kitchen, Bedroom - Use TV Stand or Mount to Wall - Includes Built-in Battery & Car Charger, Camping - Digital Tuner gets HD Channels - Roku, Firestick Compatible
Watch On-the-Go from Anywhere – This TV is designe­d for convenience and portability, with a re­chargeable battery and car charge­r included. Whether you're­ on a road trip in your RV, on a boat, or camping, bring your entertainme­nt with you.
Flexible Mounting Options – Install it conveniently under your kitche­n cabinet or use the collapsible­ kickstand for placement in your bedroom. It's de­signed with 4 holes for effortle­ss mounting anywhere you want (mount not included).
Easy Streaming for Roku/Firestick – With a conve­nient USB port, our TV allows you to effortlessly conne­ct your streaming devices. Whe­ther it's a Roku or Firestick, simply plug in and enjoy all your favorite­ shows and movies.
Stay Entertained, Even Offline – Our device­ comes with a built-in tuner and digital antenna, allowing you to watch HD channe­ls during hurricanes or power outages without re­lying on an internet connection.
Quick and Easy Setup – Starting your TV is a bre­eze! Simply follow three­ guided steps, and your TV will automatically scan for local HD channels, providing instant e­ntertainment.
Experience the perfect combination of convenience and functionality with our 14" Portable TV. Designed to seamlessly fit into modern lifestyles, this TV caters to the diverse needs of every family member. 

Whether you're an adventurous traveler or prefer cozy evenings at home, its compact design ensures a seamless viewing experience. The display is crisp, clear, and vibrant, making it perfect for movie nights, staying updated on news, or catching up on your favorite series.

With efficient power-saving features, you can enjoy longer viewing sessions without frequent charges, guaranteeing uninterrupted entertainment. Additionally, its durable build ensures longevity even with regular travel and movement.

Enjoy a user-friendly interface along with intuitive controls and a reliable system that offers compatibility with most peripherals. This isn't simply a TV; it's an entertainment companion that understands and meets your every need. Upgrade your viewing experience now with this exceptional portable solution.

Dimensions:

Screen Size (Diagonal): 14"
Width: 13.3"
Height w/o Stand: 8.25" – (Height w/ Stand: 9")
Depth w/o Stand: 1.25" – (Depth w/ Stand: 5")

TV Weight w/ Stand: 2.5 lbs

What's in the box?
1x eXuby Small Portable TV 14"
1x TV Stand with Double Adhesive Pad
1x Extendable Antenna
1x Antenna Coax Adapter
1x Remote
2x AAA Battery
1x Power Adapter
1x Car Adapter
1x A/V Cable (RCA Type)
1x User Manual