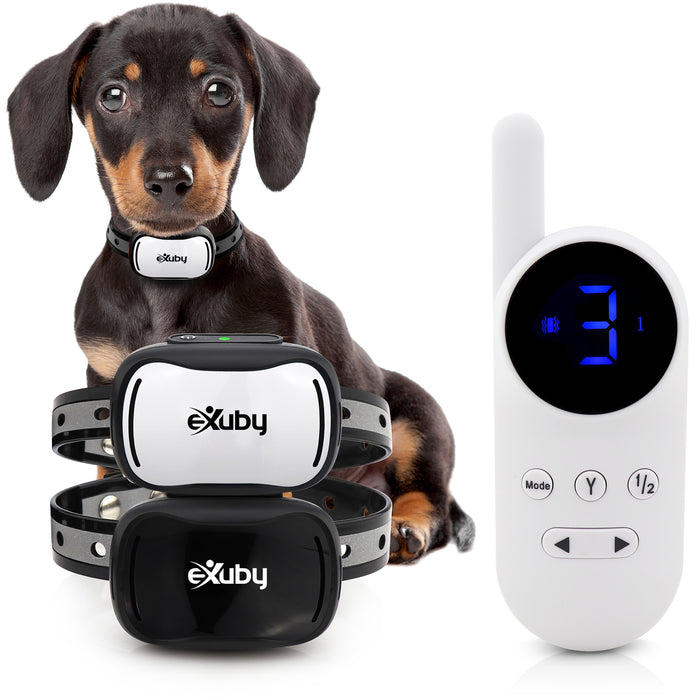 eXuby Tiny Dual Shock Collar - Smallest Collar on The Market - Sound, Vibration, Shock - 9 Intensity Levels - Pocket-Size Remote - Long Battery Life – Water-Resistant
Smallest Dog Shock Collar in the World - Put an end to unwanted behaviors with the eXuby shock collar, our smallest and most effective model available. Use it to correct behavior with your toy breed
Train 2 Small Dogs at Once: No need to buy 2 sets of collars and 2 remotes to train your dog. This bundle includes everything you need to train 2 dogs at the same time
Correct Your Small Dog's Bad Behaviors Instantly - Just because they're tiny, doesn't mean they can't have bad habits. With this tiny shock collar, stop your small dog's biting, barking, scratching, and other habits at just the tap of a button.
Not Just Functional, but Cute - Most tiny shock collars are ugly, but this attractive collar comes with blue and pink interchangeable plates for personalization. Even the remote is bright and cheery so it won't be a blemish in your home.
Switch Between Shock, Vibration, or Sound - Shocking can be too intense for some dogs, which is why this collar also comes with sound and vibration modes. Switch between nine levels of intensity to find the setting right for your pup.
Description:

Stopping unwanted barking, chewing, and other mischief in your small dog has never been easier thanks to the eXuby Tiny Shock Collar. This shock collar includes a built-in rechargeable battery paired with a fast charger, eliminating the need to buy extra batteries every few months. It's also water-resistant and durable, meaning you don't have to panic if your dog is playing outside when it starts to rain or if your dog decides to go for a swim in the pool. Control the intensity of the shock, sound, or vibration from up to 1,000 feet using the sleek and modern remote, which features a large illuminated screen for ease of reading and accessible buttons.

Dog Collar Dimensions

Width: 2"
Depth: 1"
Height: 1.5"

What's in the box?

2x Tiny Shock Collar Unit
4x Colored Face Plates
1x Remote
1x Remote Strap
2x Reflective Vinyl Strap
4x Long Metal Probes
4x Short Metal Probes
4x Long Rubber Probe Covers
4x Short Rubber Probe Covers
2x Plastic Bracket
1x AC adapter
2x Dual Charging Cord
2x Shock Tester