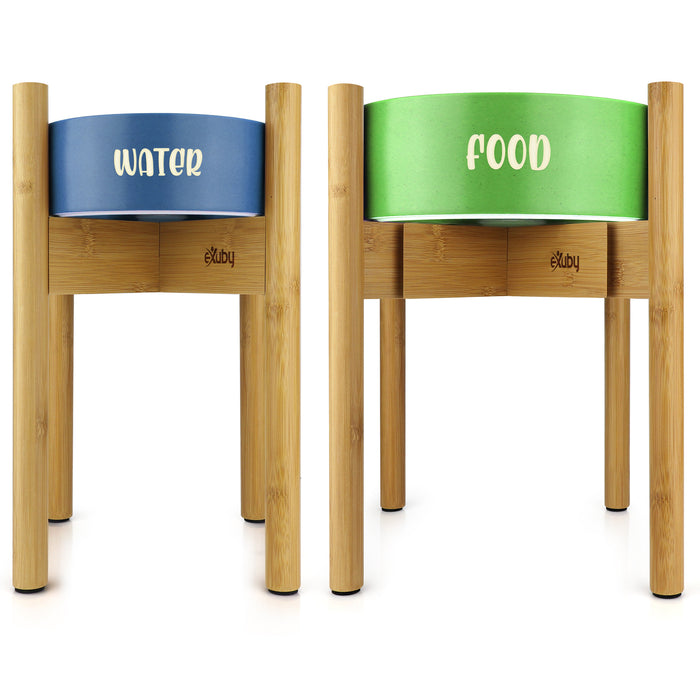 eXuby - 2-Pack Adjustable Dog Bowl Stand for Large Breed dogs - Keeps Your Dog Comfortable While Eating or Drinking - Perfect Height of 14" - Expands to 11.25" - Bowls Sold Separately
Save Money with a 2 Pack – Get our best deal yet! Our 2-pack adjustable dog bowl stand for large dogs provides a platform for both water and food bowls. Tools for assembly included; bowls sold separately.
9 Benefits of Elevated Dog Bowl – Better Posture, comfort while eating, helps with swallowing, slows down fast eaters, keeps dog from lying down while eating, easier for you to get to the bowl, keeps feeding area cleaner, prevents pawing in the bowl, helps bowl stay in place.

Adjustable Holder (8.5" to 11.25") – Set the width to perfectly accommodate your dog's food and water bowls, regardless of shape or design. Comes preset at 8.5" and can easily expand to 11.25". Simply pull to expand!

Premium Quality with Elegant Design – Your dog's food bowl can also elevate your home's decor. Made with natural bamboo featuring a classic mid-century design, these beautiful stands are the perfect alternative to bowls on the floor or clunky feeders.

2-in-1 Adjustable Height Bowl Stand – The stand measures 14" tall, which means that the bowl will sit at 12" on the high setting. Need a shorter setting? Simply flip the stand so that the bowl sits at 8".

Non-Slip and Easy to Assemble – Comes with floor pads for the bottom of each leg, protecting your floors and preventing sliding around. Super easy and quick to assemble and comes with everything you need! Only takes 3 minutes or less.

Upgrade your dog's feeding area AND your space! Our adjustable dog bowl stand appears as timeless as it is practical. It's perfect for any home and is a pet decor that you'll be proud to have. Your dog will LOVE it. The best part? You will save money thanks to our 2-pack that provides a platform for both water and food bowls.
Created specifically with large dogs in mind, the eXuby Adjustable Dog Bowl Stand can be customized for your specific needs. The holder is completely adjustable and can easily extend from 8.5" to 11.25". This means the stands can hold bowls of different sizes, shapes, and designs.
But that's not all! You can also adjust the height by flipping the stand around, allowing the bowl to sit at 12" on the high setting or 8" on the shorter setting. Choose the height based on your dog's needs and comfort!
Made with natural bamboo, you can rest assured that your dog bowl stands are made of premium quality material and will look elegant in your home. Bowls are not included.
Product Specifications:
Standard Width: 8" or 10" diagonal
Extended Width: 10" or 13.5" diagonal
Height: 15.75"
What's in the box?
2x Adjustable Dog Bowl Stand
2x Wood Allen Screw
2x Allen Wrench Keys
8x Foot Pads