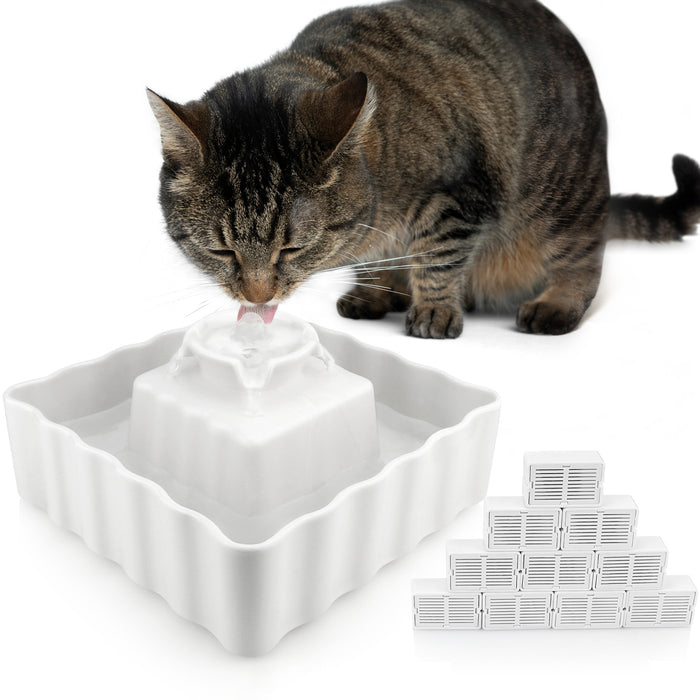 eXuby Ceramic Cat Water Fountain - Includes 10 Ultra Fine Filters - Keeps Cats Safe From Toxic Plastic - 2 Quiet, Auto Shutoff Pumps - 2.1-Liter Bowl - 360° Drinking Area - Triple Filtration System
• KEEP YOUR CAT SAFE - This ceramic fountain encourages your cat to drink water without the harmful effects of plastic. Plastic is a breeding ground for bacteria, contains toxic BPA, and can cause skin allergies on your cat.

• COMES WITH 10 EXTRA FILTERS - You get 10 three-layered filters, so you won't have to buy replacements for six months to a year. ABS, activated carbon, and cotton layers trap particles, remove chlorine and heavy metals, and improve the taste.

• TWO QUIET AUTO SHUT-OFF PUMPS - The pump for this ceramic cat water fountain runs so quiet, you won't even know it's on. Plus, it automatically shuts off when water gets too low, preventing it from burning out.

• LARGE 2.1-LITER CAPACITY - Don't worry about having to refill this ceramic cat water fountain every hour. The large 71-ounce bowl keeps your cat happy for days at a time so they can always stay hydrated.

• EASY ASSEMBLY AND CLEANING - Putting together the eXuby ceramic fountain is a breeze. Just snap a few pieces together and you're ready to go. You'll also know when it's time to clean thanks to the white porcelain surface

• PERFORMANCE & LONGEVITY – This eXuby Cat Water Fountain are developed with quality in mind for dependable performance - And they are made to be durable ensuring longevity.

Help your cat stay hydrated, happy, and healthy with the eXuby Ceramic Cat Water Fountain. The white porcelain design looks more like a decorative element rather than a drinking bowl for cats. It will look great in your home. You'll also appreciate the ease of cleaning, as ceramic is not as porous as plastic. It won't get slimy, become a breeding ground for harmful bacteria, or retain odors. Staying hydrated is important for cats since they have a low thirst drive, and the wide 360° drinking area ensures they can access the fountain on all sides.

Fountain Dimensions:
L: 8.75"
W: 8.75"
H: 5"

What's in the box?

1x Cat Water Fountain
2x Water Pump
10x Replacement Filters
1x USB Power Adapter
1x User Manual