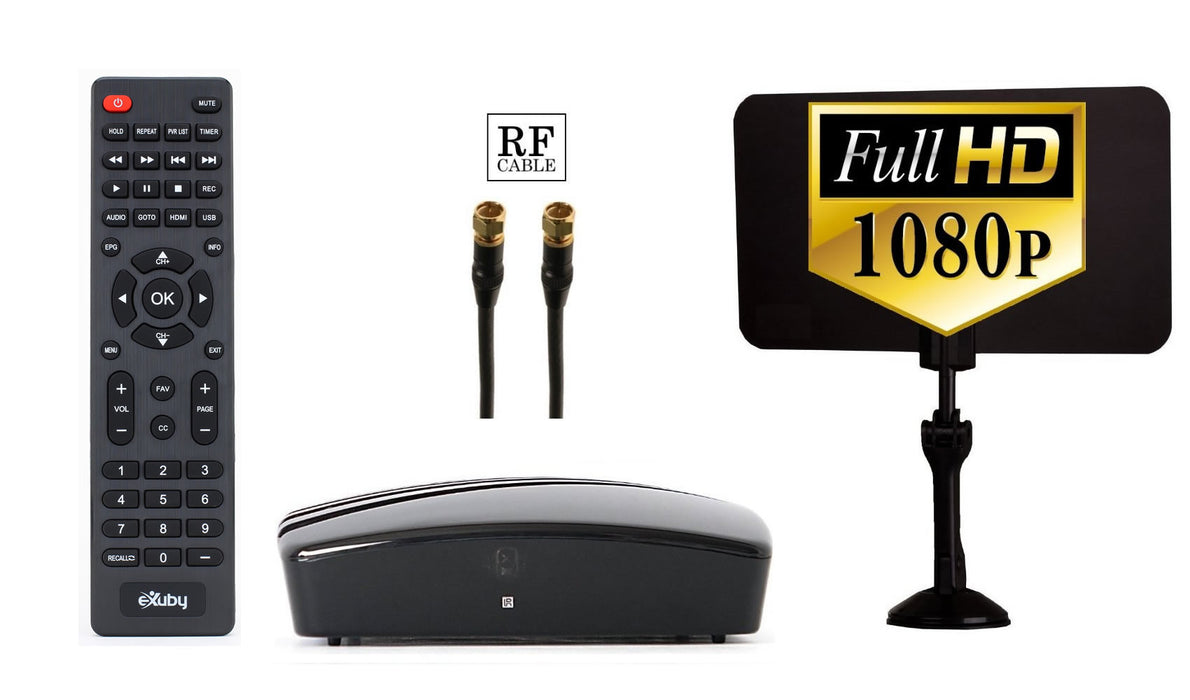 eXuby Digital TV Converter Box 1102+Antenna+RF/Coaxial Cable - Get Rid of Cable Bills - View and Record Local HD Digital Channels for Free - Instant or Scheduled Recording, 1080P HDTV, Electronic Program Guide
 Before you buy please understand that:

1) This Digital Converter Box is not a cable box and will NOT work with ANY cable or satellite services or signals such as Dish, Time Warner/Spectrum, AT&T, Cox.

2) This is not a standalone recorder or standalone DVR unit. It is designed to ONLY record local programs that it receives from an HD antenna. An external USB storage device required and is not included.

3) The number of channels received depends on your location and the antenna being used. Not all areas in the USA have HD signals available. Please research to confirm availability in your area.
4) IMPORTANT: Please do an online search for available channels in your area and what type of antenna you need to receive channels. You can go to Antennaweb or FCC's website to learn what signals are available in your address and the type of antenna you need to purchase to receive those signals. 
Antennaweb: www.antennaweb.org
FCC: www.fcc.gov
WATCH FREE DIGITAL CHANNELS

 

- On your HDTV, tube TV, LCD, LED, projector etc. - Multiple outputs: HDMI, component, coaxial and RCA - *Number of Channels Vary on Location and Antenna Strength*
1080P FULL HD RESOLUTION

 

- Sit back and enjoy pristine video quality - Or adjust the resolution to your heart's desires: 1080p, 1080i, 720p and 576p

RECORDING CAPABILITIES (External Storage Device REQUIRED) - Record your favorite shows by connecting a USB Flash Drive or External Hard Drive (not included).

ALWAYS KNOW WHAT'S PLAYING

 

- Use the electronic program guide (EPG) to know every show and movie and when it is on up to 7 days in advance (depending on what the network feeds on their signals) - Also, plug in your hard drive and watch movies, listen to music and view your pictures
PERFORMANCE & LONGEVITY

 

- eXuby Digital Converter Boxes are developed with quality in mind for dependable performance - And they are made to be durable ensuring longevity
Other Features:
LED Indicator
With the bright LED indicator you will know if the box is on or off 

Favorite Channel
Create your own custom channel list for easier browsing.

Parental Control
Keep children from watching inappropriate shows with the Parental Control feature.

Auto Signal Tuning
The digital converter box auto tunes each channel so you can receive the best possible picture.

Analog Pass-through Channel 3/4
You can choose to have your shows broadcasted on channel 3/4.

Recording and Multimedia Function - Record your favorite TV show, playback movies, view pictures, and listen to your favorite music. 
*USB 2.0 Flash Drive or an External Hard Drive (1TB MAX) is required to enable recording. 
*Our Digital Converter Box and Antenna bundle includes a basic 35 mile range, small multidirectional antenna