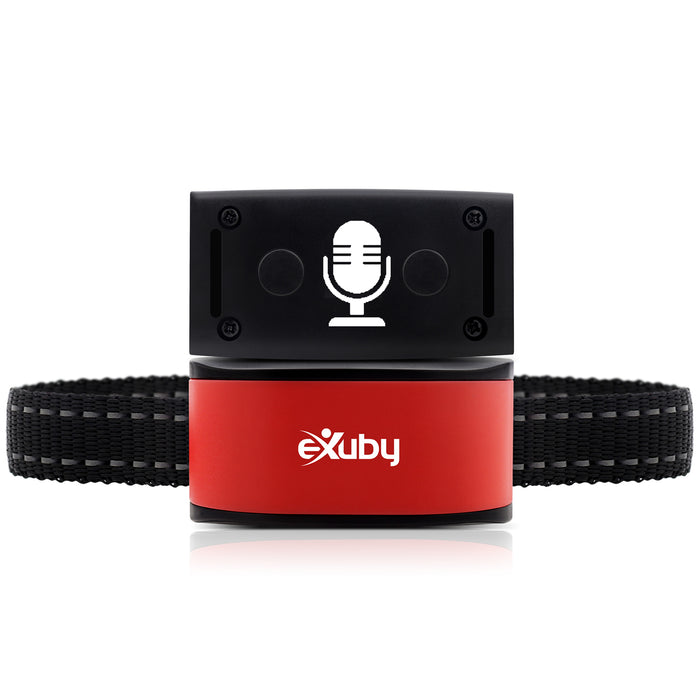 eXuby Friendly Dog Bark Collar w/ Built-in Microphone for Small Dogs - Humane Sound & Vibrations (No Shock) - Only Activates When Your Dog Barks - Advanced Chipset Auto Adjusts Vibration - No Prongs
ADVANCED MICROPHONE LISTENS FOR YOUR DOG - Never worry about this collar going off when your pup is around another barking dog. This one only activates when your dog barks to help stop woofing on walks and at home.

NO PRONGS OR SHOCKS - The goal is to train your dog, not cause them discomfort. The eXuby friendly dog bark collar doesn't have prongs or shock so your pup learns to stop barking without getting hurt.

PERFECT FIT FOR PINT-SIZED PUPS - This collar is made specifically for small dogs, so it won't weigh down their neck or fall off. It fastens small enough to wrap around a thumb, meaning it should fit all tiny breeds.

SAVE MONEY ON BATTERIES - Our rechargeable dog bark collar doesn't take disposable batteries. Instead of buying pricey replacements every couple of weeks, all you need to do is use the included charger to juice back up.

HIGH-TECH CHIPSET ADJUSTS SOUND AND VIBRATION - Using the latest technology, the chipset in this dog collar automatically tweaks the frequency, duration, and intensity of the sound and vibration to help your dog stop barking faster.

Put an end to annoying barking with the eXuby Friendly Dog Bark Collar w/ Built-in Microphone for Small Dogs. It's the perfect solution for preventing barking at strangers, the mailman, other dogs, and more. While the advanced chipset automatically adjusts the vibration and sound levels, you can change the sensitivity yourself with the buttons on the collar. Plus, red and black faceplates help coordinate your dog's style. For dogs who roam at night, the reflective straps make it easier to see them. Use the collar to make walks more tolerable, or leave it on 24/7 to stop barking for good.

Specifications:

- Minimum Strap Diameter: 2"
- Maximum Strap Diameter: 7"
- Collar Device Dimensions: L: 2.5" W: 1" H: 1.5"
- Product Weight: 1.4 oz

What's in the box?

1x Bark Collar Unit with Adjustable Nylon Strap
3x Faceplates (Black, Red, Blue)
1x USB Charging Cable
1x Manual