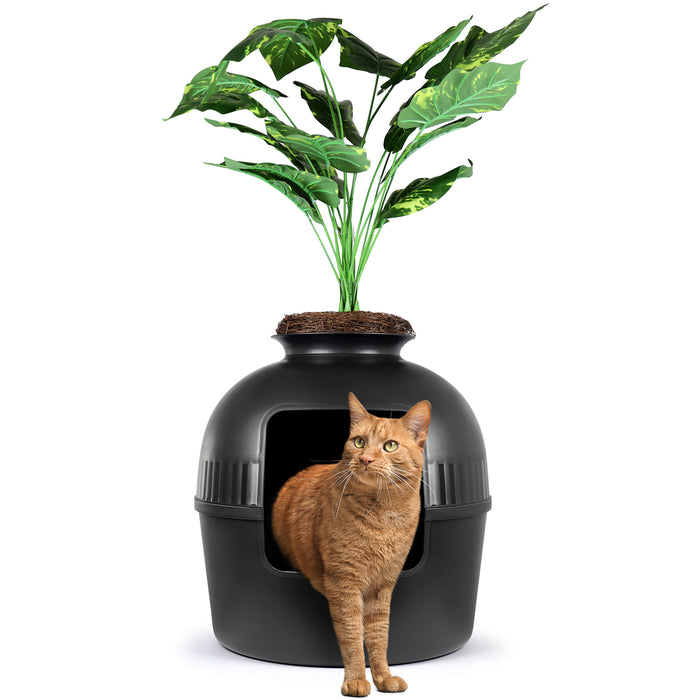 eXuby Hidden Litter Box for Cats - The Only Black Planter Furniture Litter Box on the Market - Easy to Assemble & Clean - Black Charcoal Filter Eliminates Odor - Guests Will Never Know What it is!
The Original Hidden Planter Litter Box – Our hidden litter box blends seamlessly into any room. Add beauty and character to your home with this planter featuring natural looking leaves. No one will guess there's a litter box in plain sight!

Provides Comfort and Privacy for Your Cat – Perfect for cats of any size, including large cats! Your cat will feel safe doing business in this planter litter box. The decorative moss is natural and is even safe to chew on!

Black Charcoal Odor Control – Who said an enclosed litter box has to stink? Our hooded litter box is designed to ventilate air for your cat's safety and to eliminate odors with a black charcoal filter. You can breathe easy!

Easy to Assemble and Clean – Cat box furniture doesn't have to be difficult to assemble! This beautiful planter cat litter box can be set up in less than 5 minutes, and cleaning it is even faster and easier!

Safe for the Entire Family – We know kids love to stick their hands into everything. Our planter blends in so naturally they might not realize it's there. Your cat's business stays where it belongs: out of sight, out of mind!

Upgrade Your Cat's Litter Box AND Your Space – Our black hidden litter box appears as timeless as it is practical! It's perfect for modern spaces, rustic homes, apartments, condos, and everything in-between. The best part? Your cat will LOVE it!

Your cat deserves the best environment possible. That's why we have created the only black planter furniture litter box on the market. Made from durable plastic, this litter box is easy to assemble and clean. Plus, it comes with a charcoal filter that eliminates odor, so your guests will never know what it is.

No matter the size or layout of your home, this litter box will work in any space. It's designed to fit perfectly into any corner, blending in as natural decor while providing your cat some much-needed privacy.

DIMENSIONS:

Length: 20"
Width: 20"
Height: 19.5" (w/o plant) – Approximately 35"with plant

Weight: 5 lbs
What's in the box? 

1x Hidden Litter Box 
1x Artificial Plant
1x Charcoal Filter and Holder
1x Twig Accent