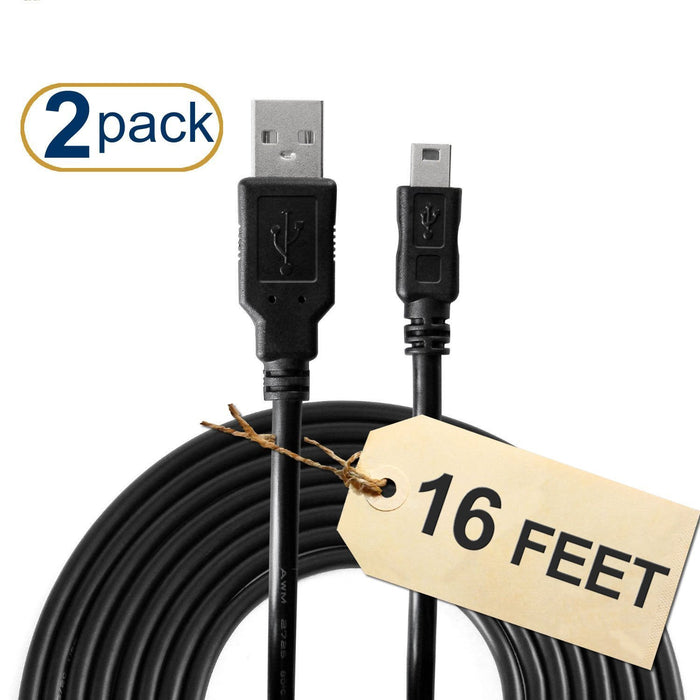 eXuby PS3 Controller Charger Cable (2-Pack) 16 Feet Long - 60% Thicker Charges at Super Speeds - USB to Mini USB - PS3 Charger Cable - PS3 Charging Cable – PS3 Controller Cable - PS3 USB Charger
CHARGE SONY OR GENERIC PS3 CONTROLLERS and any other device with a mini USB plug
THICK AND FLEXIBLE 16FT CABLE allows you to move freely around a room and over furniture
FAST CHARGING lets you go wireless in no time
SNUG FIT in both your controller and console preventing accidental disconnections
Did you know there are 2 wires in every USB cable?
One wire transfers data and the other transfers power. That's why there are 2 numbers that describes each cable. IE: 28/24. The first number refers to the thickness of the data wire while the second number is for the thickness of the power wire. Unintuitively, "28" is a smaller size than 24.
AS mentioned above with this cable you will be able to take advantage of the whole 0.5 Volt power that the PS3 outputs. Which allows you to charge your PS3 controller at an amazing speed so you can go wireless ASAP.
So once again if you like your cables LONG and THICK then purchase this CABLE