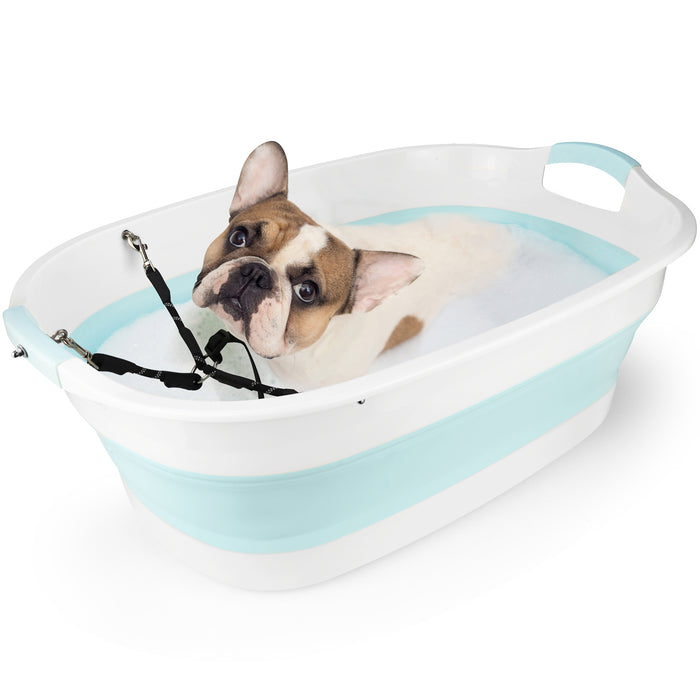 eXuby Refreshing Portable Puppy Bathtub with Adjustable Harness - Fits Small Dogs Up to 20lbs - Collapsible for Easy Baths and Easy Storage - Drains Quickly - 2 Comfortable Carry Handles
The eXuby Refreshing Portable Puppy Bathtub with Built-in Adjustable Harness is perfect for bathing puppies and small dogs while reducing anxiety normally associated with full size tubs or sinks. Fully opened, our pet bathtub measures 24L x 16W x 8.5H inches making it easy to place next to or on top of kitchen sinks, on home or hotel bathroom counters, within campgrounds, and more. Collapse it down to just 3" to quickly clean your pup's paws and for incredibly slim storage. Drain dirty, soapy water and run clean water to comfortably rinse your pup. The adjustable harness works great for cat baths too!
Fits all small dogs and toy breeds such as:
Perfect for all small dogs and toy breeds such as: Chihuahua, Pug, Chinese, Crested, Maltese, Toy Poodle, Yorkshire, Pomeranian, Pekingese, Italian Greyhound, Cavalier King Charles, Fox Terrier, Miniature Pinscher, Skye Terrier, Dachshund, Bichon Frise, Jack Russel Terrier, Boston Terrier
Happy Dog Happy Owner - safely wash away dirt and grime for a fresh and healthy dog you'll want to pick up, love, and cuddle

Puppy & Small Dog Friendly - no more fear, anxiety, or struggle thanks to the small size of our puppy bathtub - built-in harness holds your pup securely in place for a positive bathing experience
Fills Fast Drains Faster - save time and money by using a fraction of the water needed to fill a normal bathtub - simply pull the plug from inside the puppy bathtub to quickly drain water anywhere inside or out
Small Paw Print - pet tub collapses flat for easy dog paw cleaning and incredibly easy storage - dog bathtub disappears in the smallest of places - store under a sink, in a closet, under the bed, or in a suitcase for travel!
All Gain No Pain - kiss knee and back pain goodbye! - no more knees uncomfortably on the ground or back awkwardly hunched over a normal tub - place our puppy tub at a comfortable height for painless washing