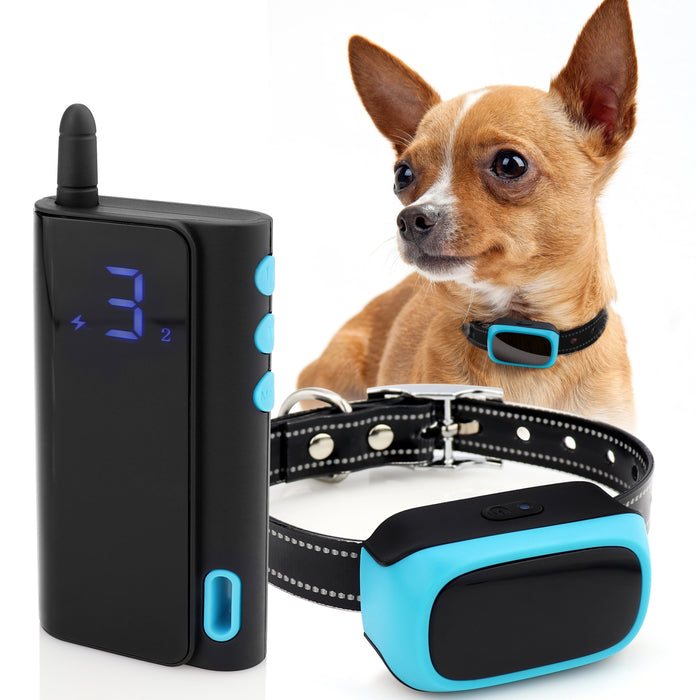 eXuby - Shock Collar for Small Dogs 10-20 pounds Rechargeable - Waterproof Remote Dog Training Collar with 3 Settings - Beep, Vibration and Static Shock for Faster & Gentle Training
FITS SMALL BREEDS - Most shock training collars don't fit small dogs...ours does. Simply adjust the size and cut away excess material. The receiving head of this collar is small enough for small dog breeds, unlike many collars that have receiving heads that are much too large for most breeds.

3 TRAINING SETTINGS - Choose from an audible beep, vibration or shock setting. The static shock setting can be adjusted from 1-9 for a softer shock for tiny breeds. Humanely correct behavior with even the most stubborn or misbehaved dogs. Most dogs respond just to the beep or vibration.

WATERPROOF DESIGN - The adjustable collar strap and electronic receiver are waterproof and can be used in the rain or a wet setting.

1000 FOOT RANGE - The remote transmitter works at distances of up to 1000 feet, making this training collar ideal for outdoor training.

PERFORMANCE & LONGEVITY - eXuby Shock Collars are developed with quality in mind for dependable performance - And they are made to be durable ensuring longevity
Fast & Effective Training
Are you looking for a safe and humane way to quickly correct bad dog behaviors or teach them complicated commands for hunting and working roles?
This rechargeable and waterproof collar features 3 effective functions: Sound, Vibrate, and Variable Shock Function.
Save weeks, months, or even years of training time on difficult and stubborn dogs of all sizes, including small dog breeds and puppies.
Finally a Training Collar for Small Dogs!
Most shock collars either don't fit around the tiny necks of smaller breeds, or the receiving collar box is simply too big for their bodies.
Our design is smaller and less obtrusive for breeds of all sizes, including chihuahuas, terriers, Pomeranians, and other small breeds.
Effective Indoors & Outdoors
The rechargeable transmitter has an effective distance of up to 1000 feet under ideal conditions.
Use it for indoor or outdoor training and behavior corrections on puppies or full-grown dogs of all sizes and breeds.
A Well Trained Dog is a Happy Dog
Dogs are social animals that get stressed when in situations without a clear pack hierarchy.
This can cause stress and anxiety, both of which can be corrected and helped with proper training.
Some dogs have behaviors that leave them easily distracted and unable to focus on commands when they're overstimulated.
The corrective collar can help them focus quickly and easily.
Collar Device Dimensions:
Width: 2.5"

Depth: 1"

Height: 1.37"