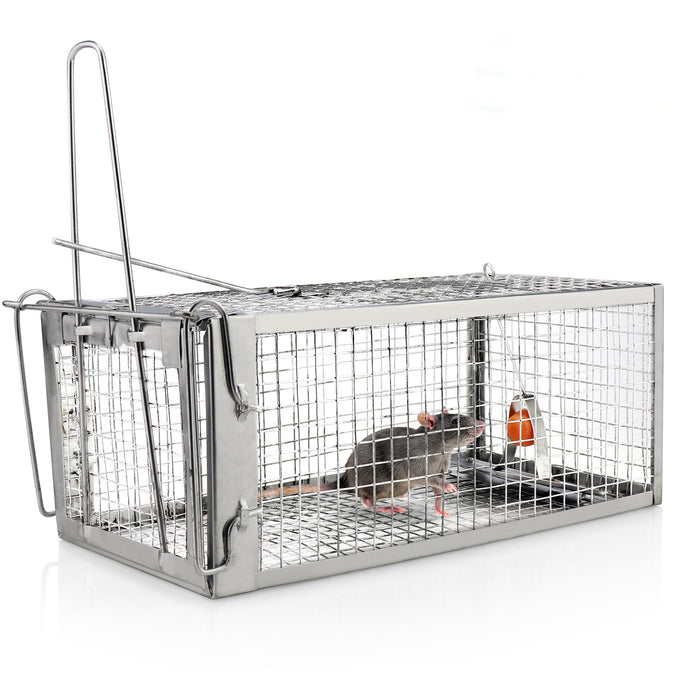 Classic Humane Mouse Trap with Steel Construction - Catch Mice Without Harm
SAVE BIG - You get a quality trap for an amazing price and it will surely catch those pesky mice one or even two at a time.

CATCHES MICE WITHOUT HARMING THEM - Getting rid of mice doesn't mean you need to kill them. Our humane mouse traps catch mice without hurting them, giving you back control of your property and protecting your family from disease.

NO-HASSLE SETUP - Start catching mice right away with the easy setup process. Once assembled, this humane mouse trap has a clever trigger design that goes off right when it needs to, capturing any mouse within range without letting them escape.

REUSE IT AGAIN AND AGAIN - This humane mouse trap certainly isn't a one-and-done kind of deal. The strong and durable metal construction lets you keep using it over and over to catch new mice who want to invade your home.

30 DAY MONEY BACK GUARANTEE - Purchase our highly effective Humane Mouse Traps and if you are not satisfied, send it back within 30 days for a full refund - No questions asked - Click on "Add to Cart" to own one now before we run out!