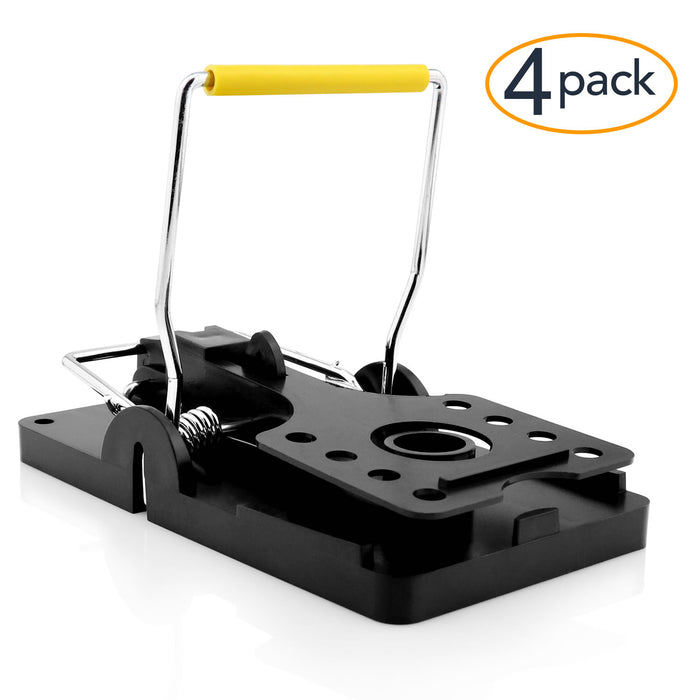 Open Style Large Powerful Rat Traps Yellow - (4 to 20 pack)
AGGRESSIVE & FAST ACTING DESIGN - Our heavy-duty spring-loaded design snaps shut in an instant for a quick and humane rodent kill. The traps take just seconds to set and are made of durable mold, rust and liquid resistant non-absorbent polystyrene. Works with peanut butter or preferred bait.

NO MESS OR BLOOD - The metal bar features a plastic cover to avoid breaking the rodent's skin or causing blood. Unlike claw designs that often maim or injure prey before killing them, our design instantly snaps the spinal cord for a quick and ethical death. The polystyrene wipes clean in seconds.

SAFE & POISON FREE - People with children and pets should never use rat or rodent poison as it's toxic and can be dangerous for your pets and children. These instant snap traps don't require toxic chemicals, messy glues or expensive electrical zap traps. Click Add-to-Cart to Order Yours Today!

EXTREMELY EFFECTIVE - No more stolen bait! This design features a tiny high walled bait "cup" that forces pests to trigger the trap before they can steal your bait. Most customers report a catch with the very first use. Unlike electric tunnel traps, rodents won't learn to avoid this style of trap.

30 DAY MONEY BACK GUARANTEE - Purchase our highly effective Rat Traps and if you are not satisfied, send it back within 30 days for a full refund - No questions asked - Click on "Add to Cart" to own one now before we run out!