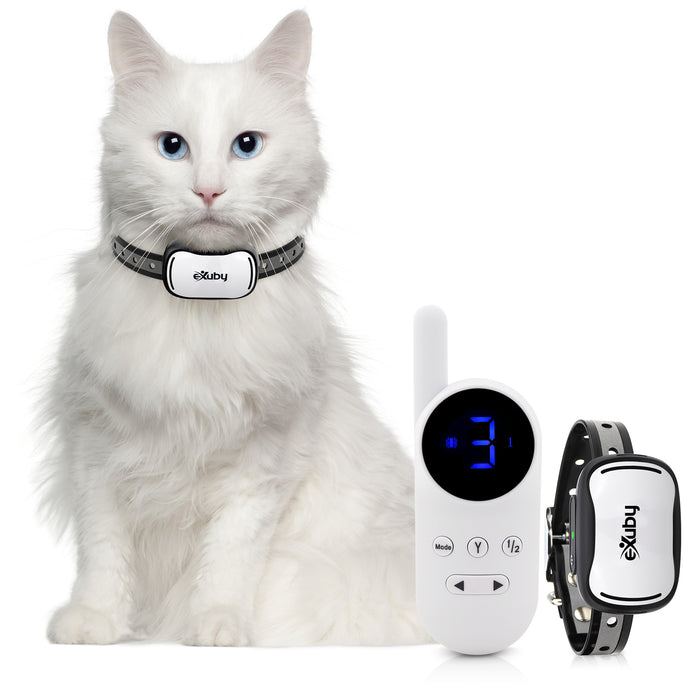 Small Cat Shock Collar w/Remote - Designed for Training Cats - Prevents Unwanted Meowing, Scratching & Roaming - Sound, Vibration & Shock Modes - 9 Intensity Levels - Water-Resistant (White/Black)
FIRST SHOCK COLLAR FOR CATS

 

- Until now, cat owners had to use dog shock collars that didn't fit right. The eXuby small cat shock collar with remote is the first shock collar tailored to the size and shape of cats.
STOP MEOWING, SCRATCHING, AND MORE

 

- Tired of your cat's loud meowing, furniture scratching or jumping on the counter? Quickly correct these bad behaviors with this collar. You can even keep your outdoor cats from roaming off your property.
LOOKS AS GOOD AS IT FUNCTIONS

 

- The eXuby small cat shock collar with remote includes brilliant colored faceplates for customization. Even better, the sleek modern, design of the remote control means it won't look clunky in your home.
3 CORRECTION MODES & 9 INTENSITY LEVELS

 

- Cats respond differently to different types of corrections, which is why the eXuby collar comes with sound, vibration, and shock modes and nine intensity levels so you can find the lowest effective setting.
Cats are notorious for being difficult to train, but the eXuby Small Cat Shock Collar with remote can help. With the use of sound, vibration, and shock, you can stop your indoor cat from scratching furniture or define the perimeter of your property so your outdoor cat knows to stay within the boundaries. Just use the intuitive remote from up to 1,000 feet away. The collar and remote both come with a built-in rechargeable battery so you don't have to buy disposal batteries, and you can charge them both at the same time with the included charger unit and cable. Control the intensity of the shock, sound, or vibration from up to 1,000 feet using the sleek and modern remote, which features a large illuminated screen for ease of reading and accessible buttons.

Dimensions:

Width: 2"
Depth: 1"
Height: 1.5"

What's in the box?

1x Tiny Shock Collar for Cats
1x White Face Plate
1x Black Face Plate
1x White Remote
1x Remote Strap
1x Reflective Vinyl Strap
2x Long Probe